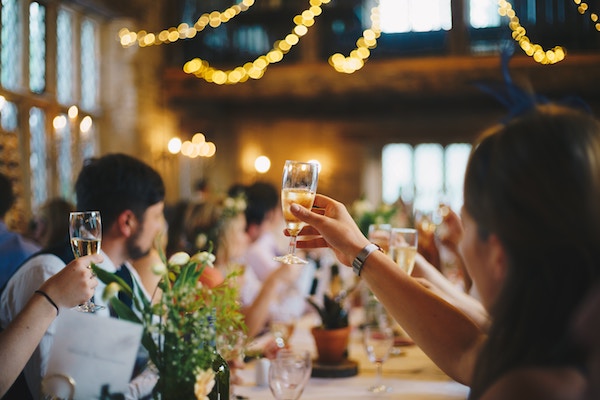 While include some favours or program at your wedding is important, why not make sure your guest feel welcome and warm at your wedding ceremony?  From welcoming them to your ceremony and giving them a appreciation message after wedding, there's a few little things you can do to make them feel loved. Here is how to make your wedding guest feel welcome, indicating what to do if you don't want to forget about all the people who came out to support you on your big day.
Sweetest Reminder
Living in busy and stressful city can lead people to memory loss. To help your wedding guests avoid forgetting your big day, send them a sweet and warmest wedding event reminder message. Including important information such as you and your fiancé name, wedding date, time and location. It's great to greet their name in the message to show your respect and appreciation to your wedding guests.
Clear & Helpful Wedding Information
When your guests received the wedding reminder message, it's good to have some helpful and clearer wedding information to guide them to your wedding. Indicating exactly which ballroom or which floor is your wedding venue to avoid them getting lost. Including a friendly GPS navigation is the best to guide them how to drive to your wedding location.
Reduce Waiting Time
While you have plan and prepare all the good foods and interesting program at your wedding, but you should also thinking how to reduce guests waiting time at reception desk. Stop flipping seating charts or make your guest stand there and look for their name in a massive way. Wedding guest attendance app can help you faster check-in your guests less than 10 seconds, and also give you a grand view in overall guests attendance statistics.
Simplify Seat Checking
To upgrade your guests experience, you can adopt the guests self check-in kiosk to simplify the guests seat checking process. With sending an unique guests QR code that represent their seating information to wedding guests, they are able to self check-in at your wedding reception. It is fast and simple, just simply present the QR code and scan to the self check-in kiosk, the guest seating information will prompt out instantly.
Interactive Venue Floor Plan
A interactive guidance to help your guests get to know their exact seating at the wedding venue is a must. Including the exact location of entrance, stages and all the table and seating plan. Without spend long time walking around to see and check where is their seating, it make them feel warm and they can get to find their seating faster and easier.
Hang Out With Them
Try your best to take some time to walk around and talk to your guests. Try to stop by every table during dinner and ask them for a group photo make them feel loved and welcomed. If you have a huge guest list in almost thousands guest this can be tough, but just try to see as many guests as possible while still enjoying yourself.
Show Your Appreciation
Don't forget to send a heartfelt thank you message after the wedding to show appreciation for attending your wedding. Be personalised and sincere, greet your wedding guest name and thanks for their presence to express your gratitude and appreciation. This small action actually does a wonder and make your guests feel great!
Find out how guest self check-in kiosk help your wedding guest management.